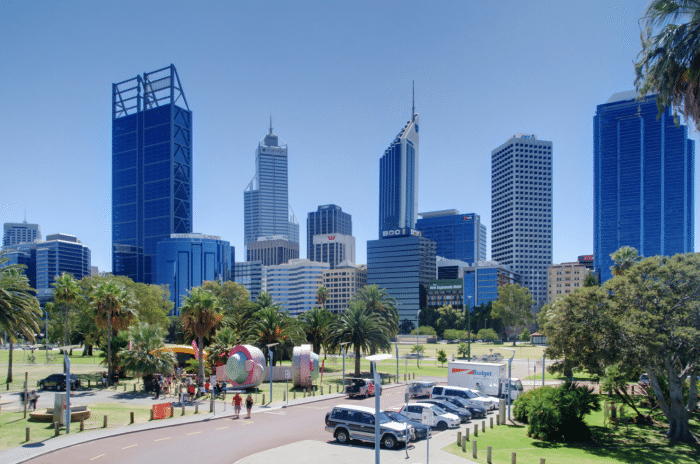 Perth frequently scores as one of the top cities to visit in Australia which is hardly any surprise. Despite its remote location, the capital city of Western Australia boasts a vibrant atmosphere and a lively nightlife with plenty to keep you entertained throughout your stay. Perth offers something for everyone from staunch wine lovers to art enthusiasts and more.
If you are planning a vacation, you will definitely want to put this city at the top of your list. Here are the top 5 rated travel attractions in Perth.
1. Kings Park and Botanic Gardens
Kings Park is a sprawling 1,000-acre park that boasts stunning views of the Swan and Canning River. It is also home to the Botanic Garden, which has over 3,000 species of fauna on display for visitors. As one of the largest inner city parks in the world, Kings Park is definitely a must see.
Enjoy one of the many events that are held throughout the year, take a long hike through the park, visit the War Memorial, or visit the gift shops to bring back a souvenir. Other highlights also include the Fraser Avenue Precinct and Synergy Parkland, both are perfect for the family.
You won't regret making Kings Park at the top of your list for places to visit in Perth.
2. Swan Valley
Located only about 25 minutes from the Perth CBD, Swan Valley is another popular attraction that offers a perfect setting for great outdoor fun. Enjoy an immersive hike along one of the many trails or head farther up north to Walyunga National Park or Avon Valley National Park, popular spots for white water rafting.
Swan Valley is particularly well-known for the Wine Trail, a 32 kilometre scenic drive trail that takes visitors to wineries, breweries, fine restaurants, distilleries, markets, and even art galleries. Be sure to also stop by one of the many venues that sell fresh local produce. Swan Valley is a popular destination and it's not hard to see why with all that it offers.
3. Fremantle
Only a short travelling distance from Perth, Fremantle is a port city known for its maritime history and Victorian architecture. The Fremantle Prison is perhaps the most popular attraction, offering rare glimpse into Australia's early days as a British penal colony. But there are plenty of things to do here and places to visit from great wine establishments to outdoor bustling markets, museums, and much more.
Another notable attraction is the E Shed Markets, Western Australia's only waterside market and filled with dozens of stalls that offer a variety of different delicacies. If you are planning a trip to Perth, then you will definitely not want to miss Fremantle.
4. Perth Zoo
Perth Zoo is another top-rated attraction that cannot be recommended enough.
Located about 3k from the city center, the zoo is filled with lush gardens and different ecosystems that are home to more than 1,200 animals from around the world. Visitors can experience unique wildlife in their natural habitat such as viewing giraffes in the African Savannah and ogle orangutans in the Asian Rainforest. Perth Zoo is easily accessible for bus, car, train, and bike. Those wishing to visit the zoo can also hop on a ferry from Barrack Street jetty.
5. Cottesloe Beach
No trip is complete without a relaxing trip to the beach. Perth is home to some of the most beautiful beaches in Australia and are well worth the visit. The best part too is that they are only a short drive away from the city center including Cottesloe, famous for its swimming and world-class annual sculpture park exhibition.
Swimmers and snorkelers alike adore Cottesloe for its crystal clear waters and mesmerising reefs. Along Marine Parade you will also find plenty of eateries and thriving cafes to choose from.
Perth continues to remain one of the top destinations for tourists around the world and it's easy to see why as there is so much to do. If you are planning a trip to Perth, include these destinations in your itinerary and contact us to hire a car. Our team will be more than happy to accommodate.