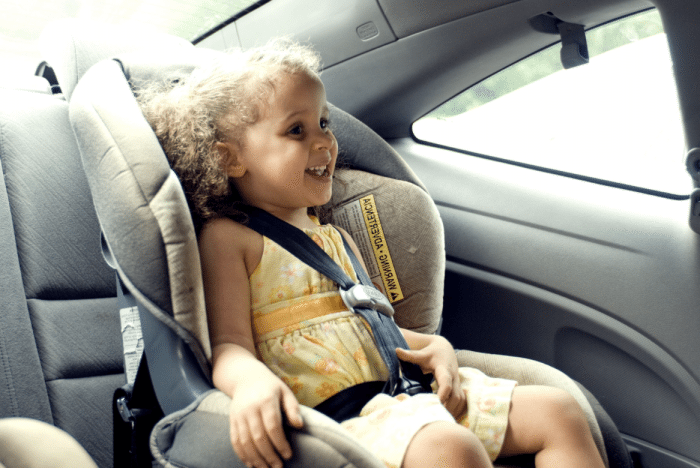 Travelling as a family is a great way to enjoy new experiences together. But when bringing the kids along to the next trip, their safety is absolutely a top priority. There are legal requirements in Australia around child car seats to reduce the risk of injury.
Penalties for not properly securing your children in a suitable seat for their age and size include expiation fees and demerit points. So when travelling with young children, make sure that they are safely fastened before departing on your trip.
The following is an overview of the national child restraint laws.
Children up to six months old: If your baby is below six months, he or she must be secured in an approved rearward facing restraint that is designed specially for babies. Double check that everything is securely fastened before starting the car.
Children from six months to four years old: All children in this age group must be secured either in a rear or forward facing restraint with an inbuilt harness. Again, the seat must be approved to ensure that it can be safely used. Children under four cannot travel in the front seat of a vehicle with two rows or more.
Children from four years to seven years old: Your child must be securely fastened in a forward-facing restraint with an inbuilt harness or a booster seat that is approved for use. When using a booster seat, your child must also be restrained by a lap and sash type seat belt that can be adjusted. Your child should only be secured in a restraint that is suitable for their size.
Children from seven to 16 years old: Children in this age group who are unable to be properly restrained with a regular seat belt are strongly advised to use an approved booster seat.
The backseat is the safest spot for children to sit. If your vehicle has two or more rows, your child must remain securely fastened in an approved restraint in the back seat.
If Your Child Doesn't Fit
Before you can safely drive on the road with any children, they must be securely fasted in an approved child car seat. If your child is too large for the seat that is designated for their age, they can move to the next age category. If your child is too small, then they should be kept in their current restraint until they are able to safely fit a larger restraint.
Approved Child Car Seat Restraints
By law, all children must be securely fastened in an approved car seat or booster with the Australian Standards AS/NZS 175 label on it. This means that the seat has met stringent standards and is approved for use on the road. Car seats that do not comply with the Australian standard are illegal to use.
When travelling with the family, it is important to follow all traffic rules for safety purposes.
If you have any further questions or would like to rent a car in Perth, contact us today and we will be happy to assist.