Book your journey with us
Perth boasts endless sunny days, award-winning wineries just beyond the city limits and white sand beaches as far as the eye can see. A car gives you the freedom to set your own schedule, without having to miss a thing! Spend your morning people watching over expertly brewed coffee in trendy Fremantle before driving south to Mandurah to laze on the beach, or head inland to the Swan Valley, where you can explore the vineyards, breweries and distilleries along the Swan Valley Food and Wine Trail or take the kids to one of the transport museums where they can awe at vintage tractors, trucks and trains.
If you're after great shopping, take a trip down Stirling Highway to Napoleon Street in beachside Cottesloe, explore the quirky boutiques of Mt Lawley and Leederville or lust after designer threads on King Street in the heart of the city.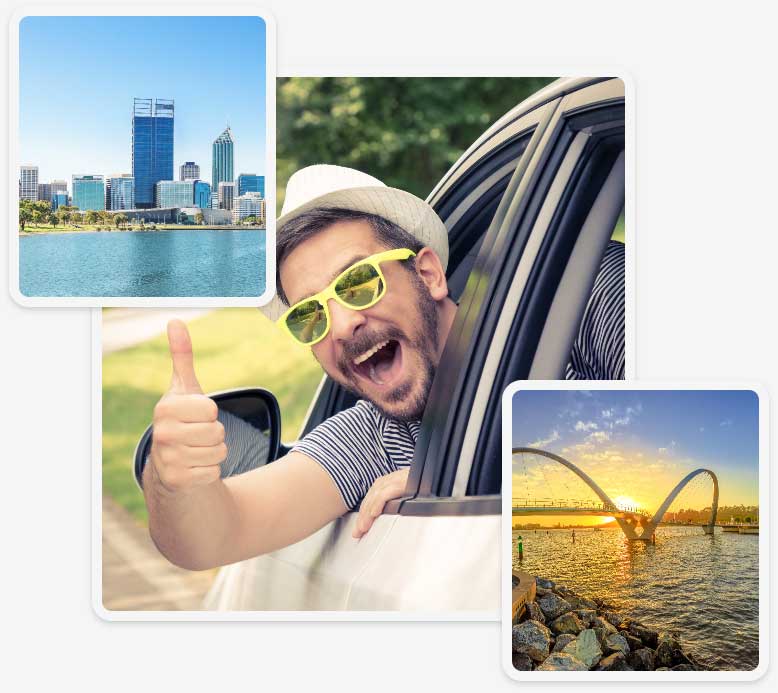 Any Perth local will tell you not to spend your whole trip in the city, but to hit the road and explore what makes WA such an enticing place to live. Just a few hours drive south of Perth you'll find every local's favourite weekend getaway, Margaret River. A haven of wine, cheese and chocolate, Margaret River boasts waves that draw surfers from across the globe and a series of natural caves to delight adventure-seekers.
If you're looking for history, Kalgoorlie's six hour drive is worth the trip inland. It has a rich goldfield history filled with tales of instant wealth, debauchery and trailblazers. Check out the visitor's centre at the Royal Flying Doctor Service or peek inside the only remaining brothel from Kalgoorlie's golden past if you're looking for something you just won't find anywhere else.
Make the most out of your trip to Perth through Ace Rent a Car car hire. For more information please call us at 08 9032 6401 or email us at drive@acerent.com.au.
Below mentioned prices are indicative daily prices for weekly rentals and may change depending upon season. Prices below do not include GST.
Ace Rent Car Hire Price Comparison

(Indicative prices, subject to change)
| Vehicle | Luggage | Passengers | Price Per Day |
| --- | --- | --- | --- |
| Kia Picanto, 5 door Hatchback or similar | 1 Large Suitcases + 1 Small Suitcase | | |
| Suzuki Baleno Hatchback or similar | 2 Large Suitcases + 1 Small Suitcase | | |
| Kia Cerato Hatch or similar | 1 Large Suitcase + 2 Small Suitcases | | |
| Kia Cerato Sedan or similar | 2 Large Suitcases + 2 Small Suitcase | | |
| Mitsubishi ASX SUV or similar | 2 Large Suitcases + 2 Small Suitcase | | |
| Nissan X-Trail SUV or similar | 2 Large Suitcases + 2 Small Suitcases | | |
| Toyota LandCruiser Prado SUV | 2 Large Suitcases + 2 Small Suitcases | | |
Perth Airport Precinct office address
345 Great Eastern Highway, Redcliffe, WA 6104
WHAT OUR CLIENTS SAY ABOUT US


I've been here a couple of times now and I've had nothing but great experiences. The staff are friendly, helpful and understanding to your needs. I would highly recommend them above any other rental company in the Peel region

WHAT OUR CLIENTS SAY ABOUT US

if you need a hire car whilst in perth , Pross is the man to see!
This was my second time rent a car from Ace Victoria Park. My family & I rented Outlander for 21 days and we are very happy for the performance of the car. Very friendly people and the best price car rental in Perth. I highly recommend this place and find Pross. 5 stars services and easy all the way. ????????????
Aziz Omar (ORB)
2023-06-18
Selama sy tinggal di Perth…kenderaan yg paling sering sy sewa ialah Ace Rent A Car. Kereta sangat selesa, murah, dan sangat menepati piawaian standard undang2 jln raya di sini. Kereta, kebanyakan semuanya baru. Mesra pelanggan yg diutamakan. Mmg layak sy bg lima bintang pd mereka. Tp malangnya, kereta yg diberi sgt bersih dan diserahkn kembali sgt kotor…hilang deposit jgn salahkan mereka pula. Ini kerana sikap yg tidak bertanggungjawab segelintir pengguna. Pesan sy, berhati2 semasa memandu. Ikuti keseluruhan undang2 jln raya di sini. Saman sgt mahal ???? Selamat datang ke Perth Australia semua ????????????
Luke Schneider
2023-06-12
Same day phone enquiry with Ace, Hire coordinator was lovely and happy to help and had easily located a suitable vehicle/van for hire and advised it was ready to go. Collected within 10 minutes, smooth process and much appreciated. Thanks Team!
Laurie Torchet dit renard
2023-06-01
Parfait, il vous arrange pour rallonger votre location à distance. Ce qui est un grand +
Great value car rentals in Perth. Fleet size is adequate, the cars are clean and well maintained. The owner is a friendly person who will make occasionall concessions for regular customers. Would highly recommend for car rentals on a tight budget !
Great service
Flemming Nielsen (Flemster)
2023-04-28
I Rented a kia picanto from Ace for 19 days from vic park Ace. The service was fantastic organised efficient. Really pleasant man.The car was immaculate looked like brand new in spite of having 22 000 km. I was advised to return it clean "please". The price was 40% less than major car hire places and included 100km per day and insurance. Great car to drive direct steering, fuel efficient fantastic road handling and amazing sound system. Real value for money compared to major car hire places. Im certainly happy to recommend them, Prof Flemming Nielsen
Very reasonably priced, friendly staff. Very accomodating when needing to extend the lease. The bond price is low and is refunded within 1 to 2 days of bringing the car back
Where to find us in Perth
345 Great Eastern Hwy, Redcliffe WA 6104
544 Albany Highway, Victoria Park WA 6100
52 Pinjarra Rd, Mandurah WA 6210